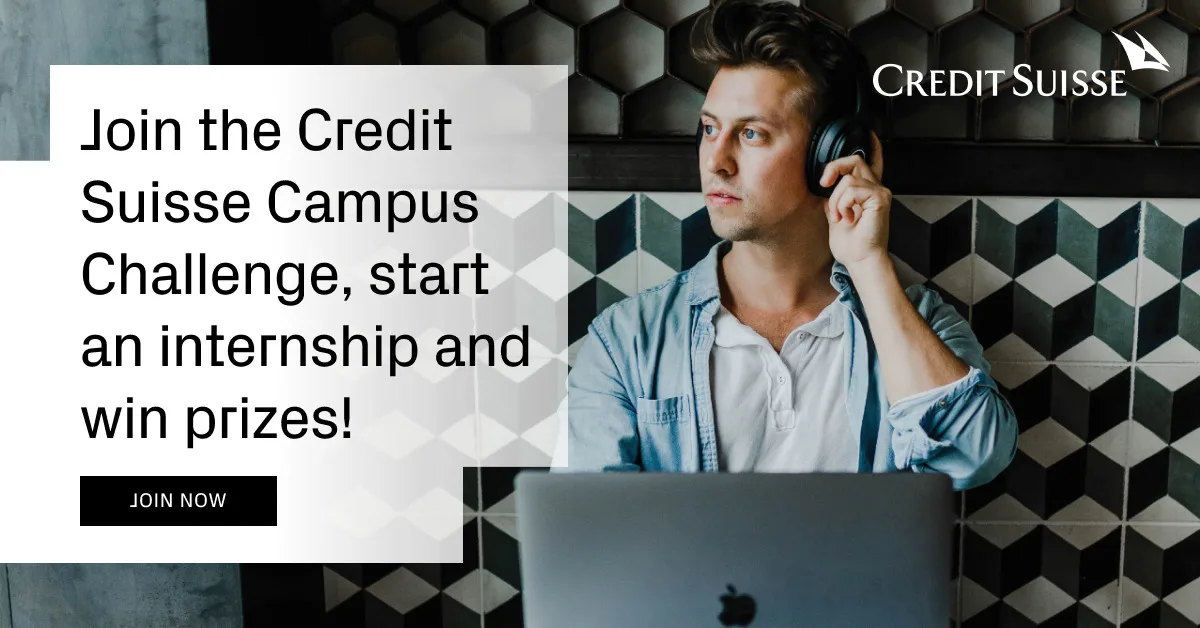 [*English description below*]
Credit Suisse Campus Challenge to przyspieszony, ciekawszy sposób rekrutacji na 3-miesięczny program stażowy w Credit Suisse. Program oferuje kompleksowe szkolenia techniczne i różnorodne ścieżki rozwoju kariery. To okazja na zdobycie praktycznego doświadczenia i możliwość pracy nad wpływowymi i innowacyjnymi projektami w wielu obszarach.
Na kandydatów czeka krótki test (max 1,5) sprawdzający ich wiedzę i umiejętności w 2 obszarach: Java oraz Analiza danych. Na tych, którzy najlepiej poradzą sobie z zadaniami czekają również atrakcyjne nagrody – karty podarunkowe do sklepu z elektroniką oraz gadżety od Credit Suisse i ChallengeRocket!

Szczegóły i rejestracja:
Jesteś studentem lub świeżo upieczonym absolwentem i szukasz możliwości kariery?

Weź udział w Credit Suisse Campus Challenge i dołącz do 3-miesięcznego programu stażowego w wiodącej instytucji finansowej!
Podejmij wyzwanie w jednym z dwóch obszarów i pokaż swój talent, rozwiązując zadania:
-Java (Java, HTML/CSS/JavaScript)
https://bit.ly/3cFSHcJ
-Data Analysis (analiza danych, SQL)
https://bit.ly/3FIw03R

Co czeka na najlepszych?
-zaproszenie na staż (Wrocław/hybrydowo),
-atrakcyjne nagrody (karty podarunkowe i gadżety),
-dużo zabawy i świetny sposób na zdobycie cennego doświadczenia!
Staż to dopiero początek – cała ekscytująca ścieżka kariery i wiele możliwości czeka na Ciebie w Credit Suisse. Dowiedz się więcej tutaj https://bit.ly/3oPVkOw
Weź udział w wyzwaniach do 28 grudnia 2021!

Are you a student or a recent graduate looking for career opportunities?
Take part in Credit Suisse Campus Challenge and join the 3-month internship program at the leading global wealth manager!

Take a challenge in one of two areas and show your talent by solving tasks:
-Java (Java, HTML/CSS/JavaScript)
https://bit.ly/3cFSHcJ
-Data Analysis (data analysis, SQ
https://bit.ly/3FIw03R

What's waiting for the best?
-invitation for the internship (Wrocław/hybrid),
-attractive prizes (gift cards and cool gadgets),
-lots of fun, and a great way to gain valuable experience!

The internship is just the beginning – a whole exciting career path and many opportunities are waiting for you at Credit Suisse. Read all about it here https://bit.ly/3oPVkOw