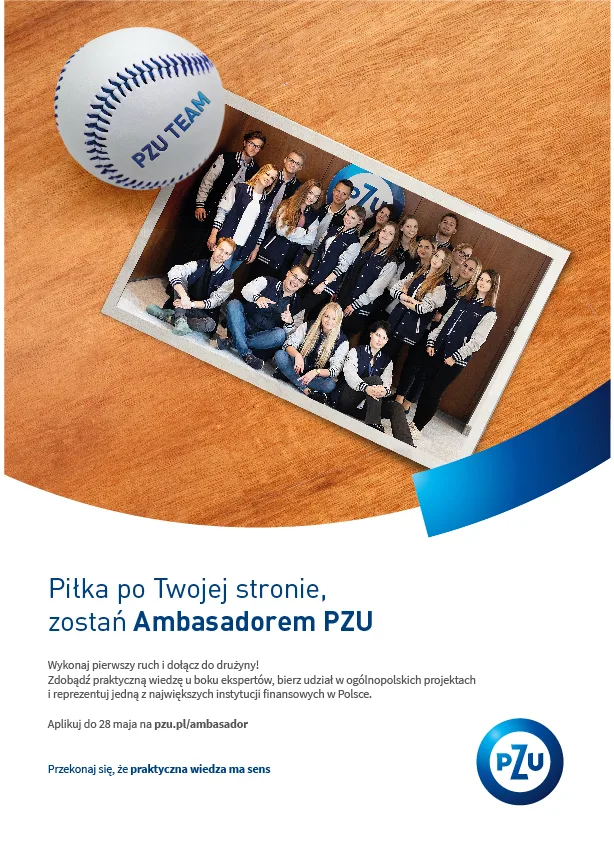 PZU wspiera studentów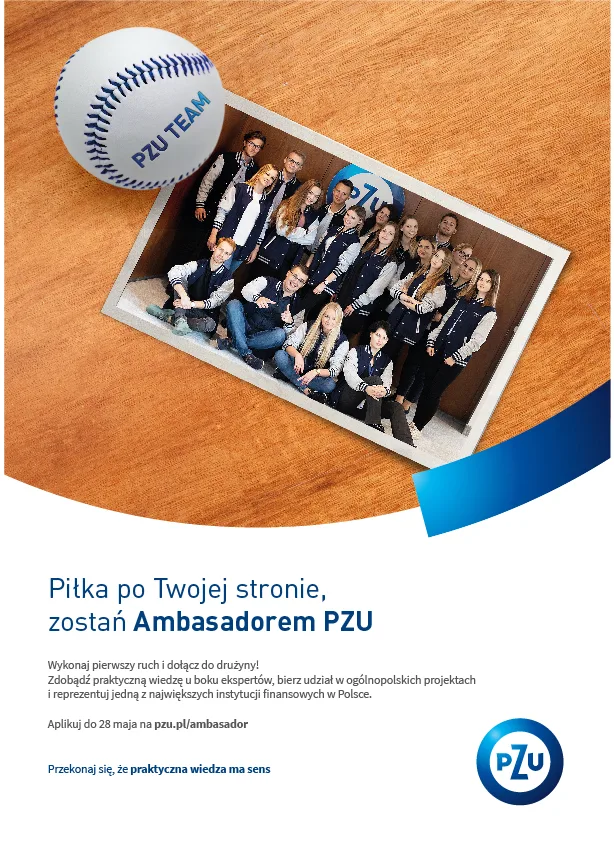 Rusza program dla studentów Ambasador PZU. To szansa dla młodych ludzi na zdobycie stypendium oraz praktycznej wiedzy u boku ekspertów, poznania Grupy PZU i reprezentowania jej w środowisku akademickim. To także możliwość współorganizowania ogólnopolskich projektów na swoich uczelniach. Czas na zgłoszenia – do 28 maja.
– Chcemy dać studentom możliwość sprawdzenia swoich umiejętności w praktyce i zdobycia doświadczenia, które przyda im się w zawodowej karierze. Zwracamy się zwłaszcza do aktywnych młodych ludzi, którzy już działają w organizacjach studenckich, kołach naukowych i stowarzyszeniach. Jako Ambasadorzy PZU będą mogli uczestniczyć w przygotowaniach różnych projektów m.in. Dni Otwartego Biznesu czy Programu Praktyk i Staży oraz odpowiadać za ich promocje bezpośrednio na swoich uczelniach i w social media – mówi kierownik zespołu Rekrutacji i Marki Pracodawcy Anna Gaertig.
Ambasadorzy PZU zyskają również możliwość udziału w szkoleniach, tj. warsztaty VR i Design Thinking. Praktyczna wiedza ma sens – to hasło przyświecało ogłoszonemu zimą przez PZU – Programowi Praktyk i Staży dla studentów i absolwentów. Kontynuacją tej idei jest właśnie program Ambasador PZU. Liczymy, że zaowocuje cennymi dla studentów doświadczeniami, które przełożą się na ich rozwój zawodowy – dodaje Anna Gaertig.
Do udziału w programie rozpoczynającym się w październiku PZU zaprasza studentów od I do IV roku studiów z 11 miast Polski: Warszawy, Krakowa, Katowic, Lublina, Gdańska, Wrocławia, Poznania, Torunia, Białegostoku, Łodzi i Rzeszowa. Zgłoszenia można wysyłać do 28 maja.
Więcej informacji i formularz aplikacyjny można znaleźć na stronie internetowej: www.pzu.pl/ambasador