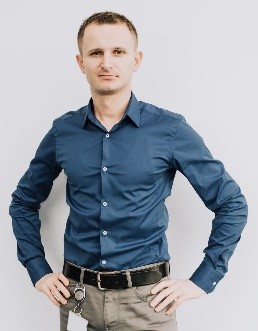 Przemek Wydra
PROJECT MANAGER / COACH / TRENER GIGASET, WROCŁAW
ZAPRASZAM STUDENTÓW WYDZIAŁÓW:

---
MOJE DOŚWIADCZENIE
Ukończyłem Politechnikę Wrocławską oraz Noble Manhattan Coaching. Przeszedłem ścieżkę od programisty, przez Scrum Mastera, PMa, Software Department Managera do coacha i trenera. Uczę wyznaczania celów, zarządzania czasem, świadomego tworzenia planów zgodnych ze sobą.
JESTEM MENTOREM PONIEWAŻ …
Chcę i potrafię pomagać w rozwoju innym.
Mam doświadczenie we wspieraniu poprzez nakreślanie wizji, pomoc w wyznaczaniu celów, maksymalnie efektywne i elastyczne podejście do realizacji zadań.
MAM DO ZAOFEROWANIA MENTEE …
Przestrzeń do znalezienia ścieżki zawodowej, która jest z nim maksymalnie zgodna.
Pomoc w ułożenie planu i określenie kroków, jak wdrożyć go w życie. Plan ma być konkretny, ale podczas jego realizacji warto być elastycznym i dostrzegać pojawiające się możliwości.
MOJE WYOBRAŻENIE DOTYCZĄCE RELACJI Z MENTEE TO …
Każdy mentee jest wyjątkowy, z każdym relacja przebiega w wyjątkowy sposób.
Wspieram mentee poprzez coaching. To mentee sam stworzy plany, wyznaczy cele i określi kroki jak je osiągnie.
SZCZEGÓLNIE CENIĘ SOBIE …
Szczerość – to dzięki niej jesteśmy sobą i jesteśmy szczęśliwi.
Odwagę – potrzeba wiele odwagi żeby stworzyć unikatową drogę.
Łączenie punktów – dostrzeganie możliwości, wymyślanie rozwiązań, planowanie, łączenie.