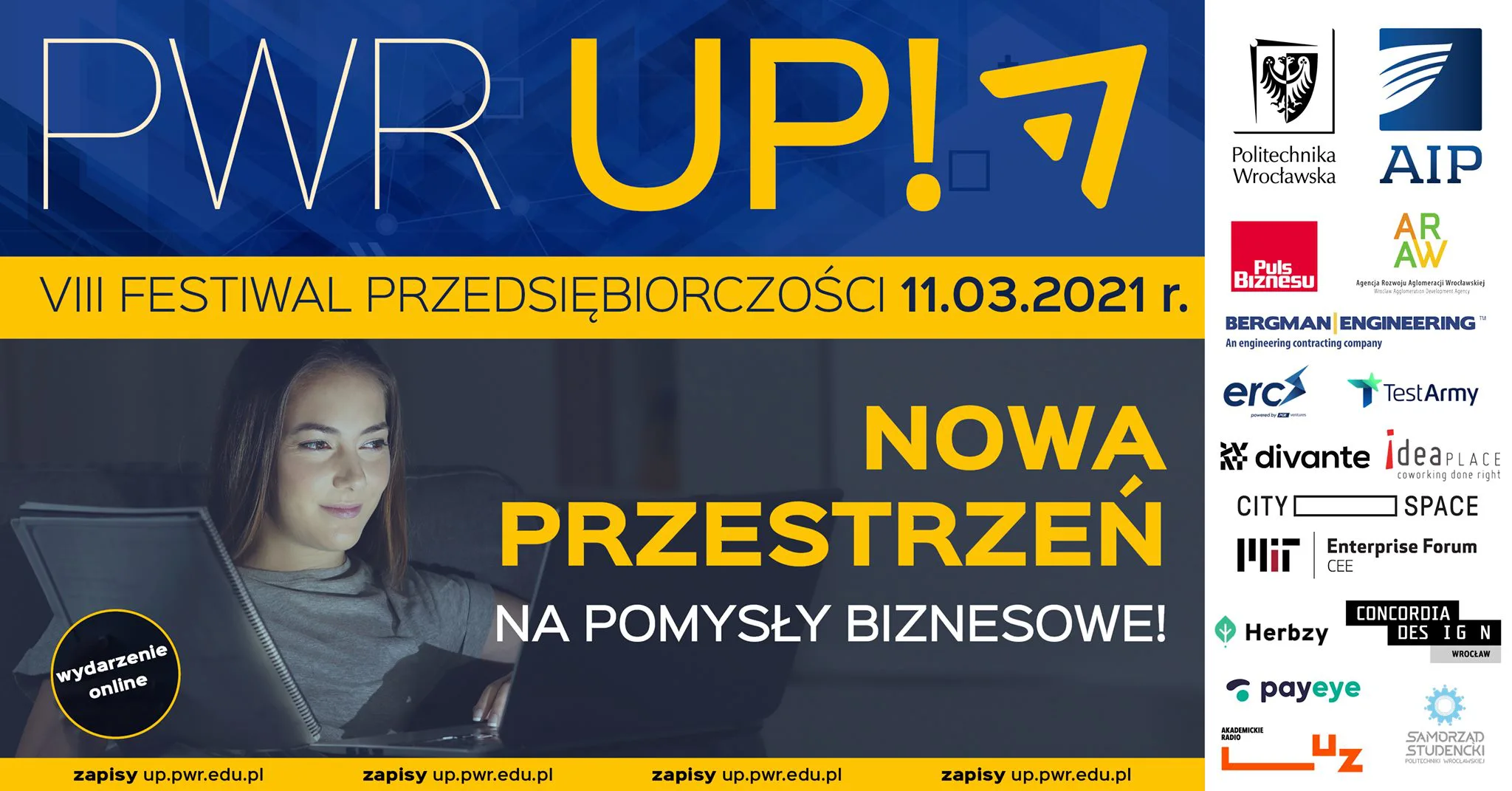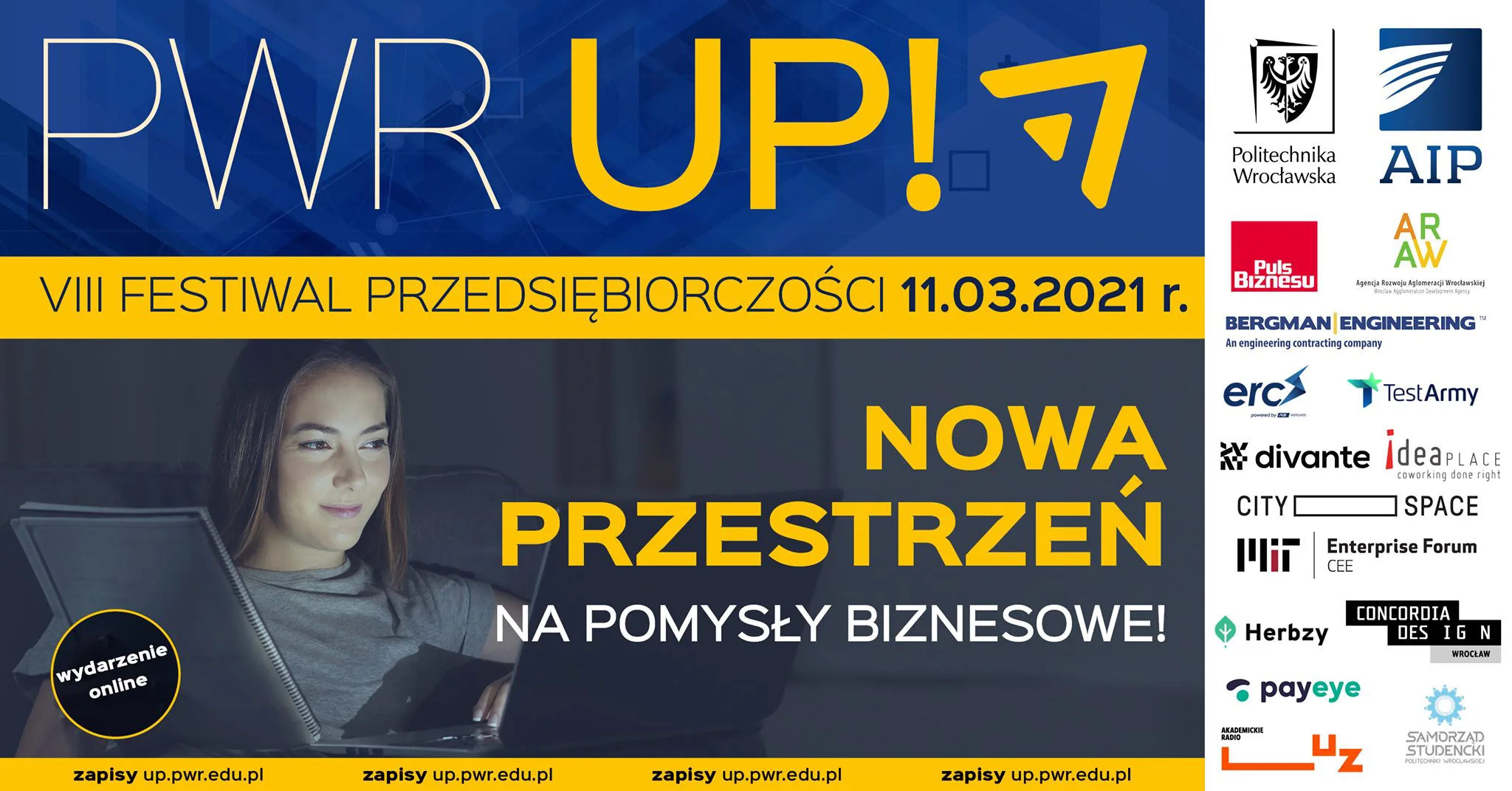 Festiwal Przedsiębiorczości PWr UP to cały dzień solidnej dawki wiedzy biznesowej od osób wspierających nowe firmy oraz doświadczonych praktyków biznesu.
https://www.facebook.com/events/516588915970783/?acontext=%7B%22event_action_history%22%3A[%7B%22mechanism%22%3A%22search_results%22%2C%22surface%22%3A%22search%22%7D]%2C%22ref_notif_type%22%3A%22group_scheduled_post_published%22%7D
W tym roku skupimy się na nowych perspektywach biznesowych, które wynikają z digitalizacji społeczeństwa. Według ekspertów ostatni rok to od 5 do 7 lat postępu w sprawach związanych z narzędziami online. Dzięki tym zmianom nowe biznesy mają szansę zaistnieć, oferując rozwiązania, które byłyby potrzebne dopiero za kilka, a jednak potrzebujemy ich już teraz.
Co dokładnie się zmieniło?

Jak inwestorzy podchodzą do nowych pomysłów?

Jak skutecznie pozyskiwać klientów?

Na te pytania znajdziesz odpowiedź podczas VIII Festiwalu Przedsiębiorczości PWr UP
Po wydarzeniu będzie udostępniony networking, podczas którego będziesz mógł porozmawiać z prelegentami oraz innymi uczestnikami wydarzenia. Będzie to świetna okazja, aby nawiązać kontakt z osobami doświadczonymi już w start-upach, ale także takimi które stawiają dopiero swoje pierwsze kroki w biznesie.

Skorzystaj z okazji, weź udział w wydarzeniu!
https://app.evenea.pl/event/pwrup2021/
Wydarzenie odbędzie się online, dlatego możesz być uczestnikiem, niezależnie gdzie teraz się znajdujesz.
Zastanawiasz się czy świat start-upów jest dla Ciebie?

Nie wiesz czy opłaca się ryzykować zakładając swoją firmę?

Brakuje Ci pomysłu na życie po studiach?

Posłuchaj i sprawdź! "na scenie" festiwalu wystąpią:

Katarzyna Pala – Dyrektor Rozwoju Biznesu SensDx S.A. – Innowacje diagnostyczne w dobie pandemiii

Krystian Kulczycki – Prezes PayEye -Biometryczna r-ewolucja made in Poland
Radek Czahajda – Online Training Festival Lead – Jak wykorzystać webinary do rozwoju biznesu?

Jerzy Krawczyk i Andrzej Buczyłowski – TrustMate,

Magdalena Jabłońska – CEO at Foundation for Technology Entrepreneurship

Marcin Łaskawski – CEO Divante

W trakcie wydarzenia przeprowadzimy wywiad z

Marekem Zmysłowskim – przedsiębiorcą, inwestor i manager z wieloletnim doświadczeniem w biznesie, głównie internetowym
https://marekzmyslowski.com/pl/start-pl/